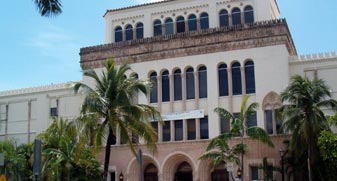 Although many years have passed, the Miami Senior High School Class of '61 has remained a close knit family of friends and classmates. Our previous reunions have always been exciting, enjoyable experiences that have left us waiting for our next opportunity to get together with each other.

Our class reunions have mirrored our progression through the years. It is always great to reunite with classmates and friends and to notice how they may have aged gracefully while we never seem to get any older.
Please get in touch by email at miamihigh61@gmail.com to offer comments and join our mailing list or keep in touch through Facebook.
Enjoy a short video on the history and traditions of Miami Senior High School.